Serenity amidst Perplexity by Ms Farah Bukhari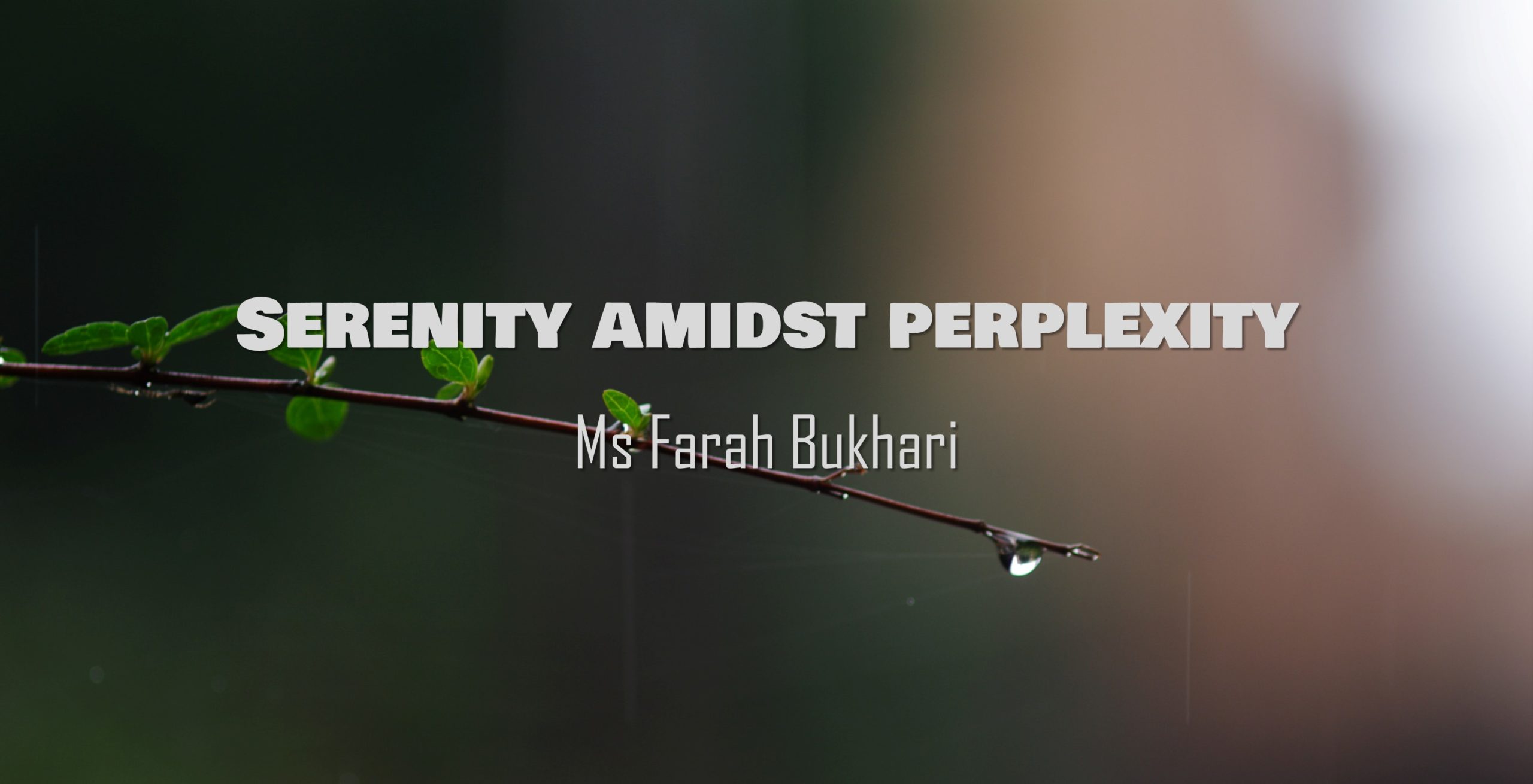 The times were never so drab.
The times were never so warm.
This could be one way of explaining Albert Einstein's Theory of Relativity which, in fact, is based on our perception.
This is, perhaps, how I might reflect, when I look back, sometime later or after many years have elapsed. 
That is how I had first viewed the lockdown in the wake of COVID-19 outbreak. The altered course of navigation seemed daunting, for treading into unfamiliar grounds can be intimidating. Before long, I found myself enjoying my culinary skills rather than rushing through the kitchen rituals as I had been accustomed to, relishing food with my family and indulging into that extra cup of tea, listening patiently to my children's chit chat and even playing with them. The lockdown had cemented our bonding in more ways than I could think.
It was this situation of confinement that taught us "Less is more" and that the real pleasure lies in giving. Giving your time to your family in person, friends and families through social media, food to the people who ring your doorbell, charity to the destitute when you go out to buy your own groceries.
It was in this state of being homebound, that the entire family either discovered or developed numerous skills_ art and crafts, learning a new language, horticulture, the multimedia usage and even cleaning.
I found out, to my delight, how a certain part of my house lit up when the sun streamed in at a particular time of day. The morning strolls had never felt so refreshing, perhaps because I had never had a chance to breathe in the crisp air at such wee hours.
The pleasure of watching swallows collect twig after twig to build their nest felt so gratifying amidst chirps and tweets. This was something which I had heard only on some rare moments but now, thankfully, it had become a daily experience. And the stars in the night sky transported me back to my childhood days in Islamabad when on many a night I had tried to count the twinkling stars but always lost track.
Indeed the divine blessings and bounties have their own ways of reaching out to us. So many of us must have realised that the measure of our tolerance, resilience and the sense of fellow feeling has gained new proportions.
The best that came out of the worst, I feel, is the thought that what divides us pales in comparison to what unites us. The world feels at one in commiserating with those who have lost their loved ones in this pandemic or otherwise. 
May the Rabb heal their wounds and grant protection to all, Ameen! 
—
Ms. Farah Bukhari is a member of the English Literature team in the Senior Section. She has been associated with the teaching field for years now which she has come to regard as a passion rather than a profession. 
Besides having a profound love for reading since her childhood, she has enjoyed writing in eclectic genres which were always a therapeutic experience for her.
Customs and cultures of various civilisations – previous and present – hold great fascination for her. Moved considerably by the prevailing global situation which has been triggered by COVID-19 which ushers in a New World Order, she feels propelled to share her thoughts with her readers so as to work in synergy to restore a semblance of order in a time of chaos and crisis.
—
Cover Photo by Hiroshi Tsubono on Unsplash