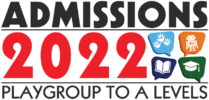 Alhamdullilah, with our consistent focus on holistic Quality Education, Generation's School continues to grow, evolve and inspire every day.
The School comprises two purpose-built campuses: the North Campus is exclusively for our little ones, from Playgroup to Grade II; and the South Campus is a vast state-of-the-art campus – with extensive facilities for Grade III to A Level – designed to provide students with world-class learning opportunities in an inspirational learning environment.
The admission process for the session commencing August 2022 has begun. Parents seeking admissions for children for all age groups are welcome to apply on a first-come-first-serve basis.
Admissions
@ Generation's
Admissions 2022 -
Frequently Asked Questions