Lost in Search by Azka Raza Khan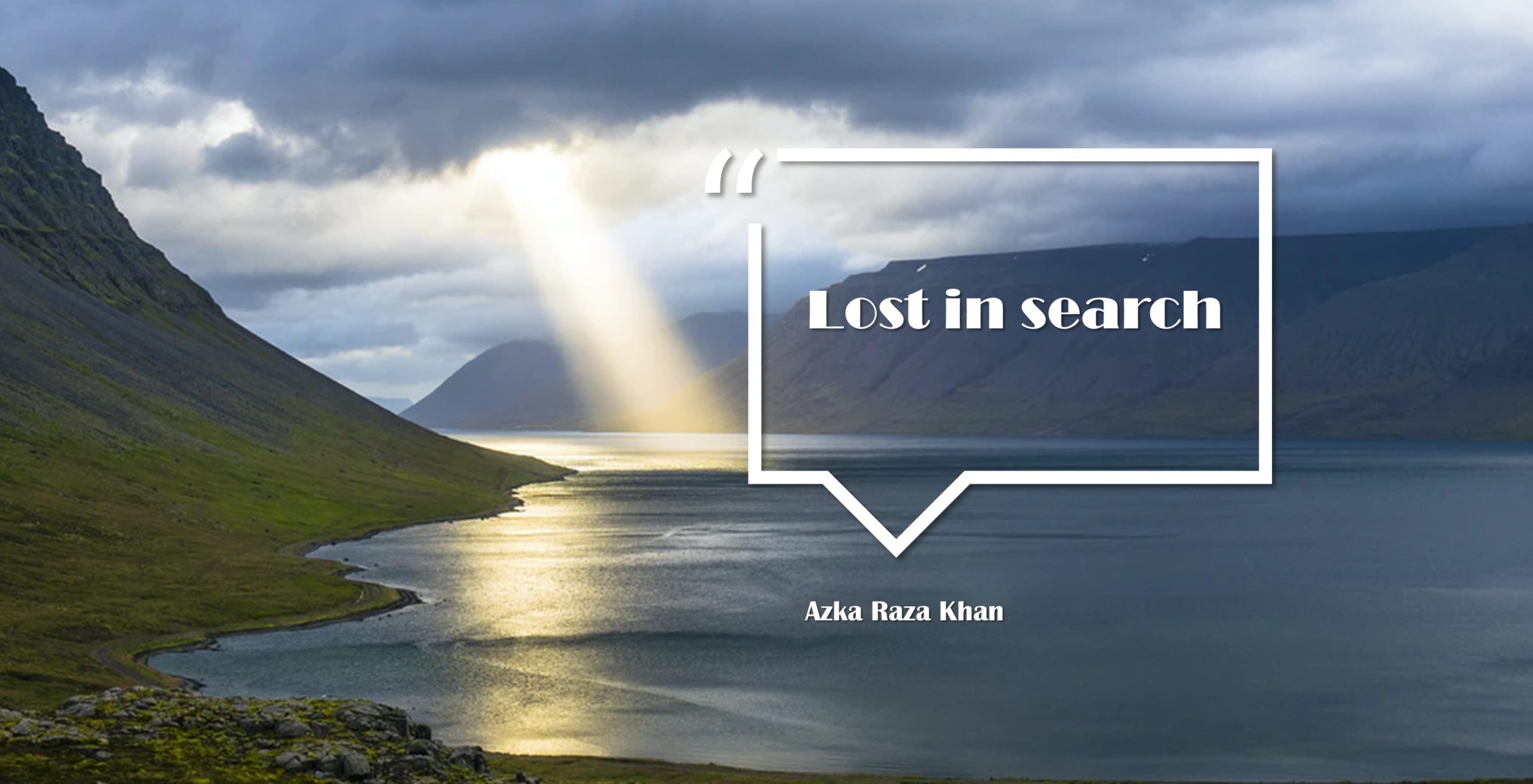 I ask 'where do I find Love?'
'Look around you,' they say, 'If you look for it closely enough, it will guide you towards itself. But it always comes to you in a unique colour. If you learn to truly appreciate its colours, it will help you recognise the real and eternal love.'
When I set out in search of it, I feel it in the soft autumn wind as it brushes against my face and softly whispers songs of hope to me, leaving me wondering about its Creator. I witness it in the warmth of a mother's hug which embraces my broken heart, assuring me that all will be well, and pieces it back together by her affection. I see it in the eyes of a proud father who pats me on the back and says, 'I am proud of you', words I have longed to hear.
In the moments where I laugh out loud with my best friend for no reason at all, even when nothing seems to work, I still find my smile when I am with her, making me feel gratitude for the Being who tied our fate together. I hear it in the squeals of a baby, when I swing him in the air only to see trust in his eyes, sure of being caught again. In the loyalty of a friend who listens to the late-night rants, when the lies of the world are frustrating me. I catch it in the smile of a stranger, unknown to me but friends to an enormous group of teens. I experience it in nights spent admiring the brightly shining moon gazing at me from a distance and at a million others, who sit there in the lonely night in hope with its shadow as their only companion. The serenity of it all reminds me of the Lord, who crafted the beautiful starry sky for my anxieties to take refuge under.
I sense it accompanying me while I take a trip down memory lane, only to come back when the sight of the loved ones I have lost fills my vision. A vision that guides me to sujood. As I do so, a trail of tears leaves my eyes and pain claims my heart. That is when I uncontrollably call out to Him, and His name relieves me of the agony and replaces it with peace. That is when my heart submits to His love, the only real and eternal Love.
—
She is lost in her trance but aware of the possible dangers around. Azka Raza Khan of A1-G has learned how to adjust while living in and out of her fantasies. Finding solace in writing and doodling, she's been able to express herself while playing with words and random lines that intervene to demonstrate the art in her mind.
She often reminisces her school days. And looks forward to returning to the walls that hold her happy memories. She is passionate about writing and is currently working on her Instagram page.
—
Cover Photo by Davide Cantelli on Unsplash