Important Developments Regarding O & A Level Exams and Student Grades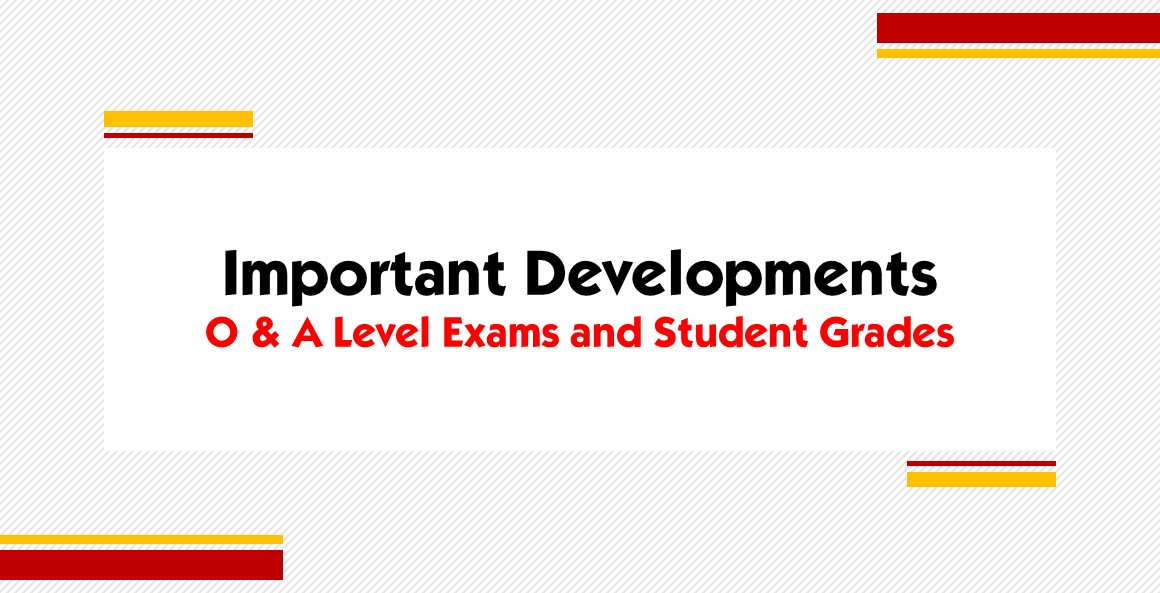 Dear parents and students,
Assalamu alaikum,
We hope and pray that everyone has been keeping safe, and keeping well, insha'allah. These are undoubtedly trying and testing times for everyone. Generation's School has been striving to adapt to these circumstances and ensure the best possible outcomes for student learning, especially for the O and A level examination classes. At the same time, students must take on enhanced responsibilities of their learning, along with enhanced parental support. 
We are sharing updates below based on what we know today. The situation continues to evolve every day, and is subject to further changes in local and global circumstances over the coming days and weeks, along with any announcements that may be made by Cambridge International, the Government of Sindh, and/or the Government of Pakistan.
The May 2020 series of the CAIE exams has now been cancelled, in full, across the globe.

Students who are already registered for their O and A Levels will still be awarded certificates – and appropriate grades – by Cambridge International.


a.

The grades and certificates shall have the same weight and 'currency' as they do in any other year.


b. These grades will now be determined based on a 'range of evidence' of student learning and achievement, that are to be provided to Cambridge, by the School. 

This means that the final O and A Level grades will not be determined by students' performance in the final CAIE Exams (which stand cancelled). The grades will now be determined by the evidence of their attendance and their performance in formative and summative school assessments throughout the session.

Online Teaching and Learning has been continuing in full swing throughout March. The 'Assessment Week' is now scheduled to commence on Monday, 06 April, insha'allah. Students will be assessed on the syllabus covered in March. 

Please see the accompanying (a)

Guidelines for Home-Based Assessments

; and (b)

Assessment Week Schedule

.
Jazakallah khayr,
Ms U Shakeel
Guidelines for Home-Based Assessments
Assessments will be starting Monday, 06 April insha'allah.

These assessments are mandatory for all students. They will form a significant weightage of formative assessments; and will impact final Cambridge O / A Level grade.

We expect all students to take these assessments responsibly and seriously. They must prepare for the assessments in a thorough manner. Every student and parent is expected to take full charge of the credibility and fairness of the assessments – for the learners themselves and for their classmates.

Assessments will be posted online via Google Classrooms, and will be timed. However students will answer on paper; and images of these answers are to be uploaded back to Google Classrooms immediately.

Any malpractice will result in cancellation of your assessment; and this will have an impact on your final Cambridge grades.
Setup: what students will need…
Environment: Students and parents are expected to ensure conducive and appropriate environment at home.

A clear desk, along with an internet-enabled computer (or smartphone) to access Google Classroom. A larger screen will be more appropriate to view the question papers.

Ten blank sheets of lined paper for each assessment (to be used as answer sheets); along with appropriate stationery.

Smartphone (to upload images of answer sheets).
Labelling Answer Sheets…


Each page of the answer sheet must be clearly labelled on the top right with…

full name and class

correct GS-ID, 

page number, e.g. "page 2 of 4", and

subject of assessment.
Log in to Google Classrooms as per Schedule, at least fifteen minutes prior to the start of the assessment. 

Navigate to the "Grade [__] – Assembly" classroom and select the appropriate assessment subject. Mark your attendance through the "Attendance Quiz".

The assessment question paper will be published onto the respective "Assembly" Classroom exactly at the start time. 

At the end of each assessment, students will take photographs of their answer scripts (page by page) in a clear and legible fashion. Each image is to be uploaded onto the relevant Assignment in Google Classrooms, and turned in.

This must be done within 5 minutes of the end time.
In case of emergency, contact the Senior Section's "Online Learning Helpline" via WhatsApp on 0300.022.0632.
Download the schedule of assessments.
Online Assessment O Level 2019 – 20