Dr. Ghazala Siddiqui's year-end letter to students and parents 2018-19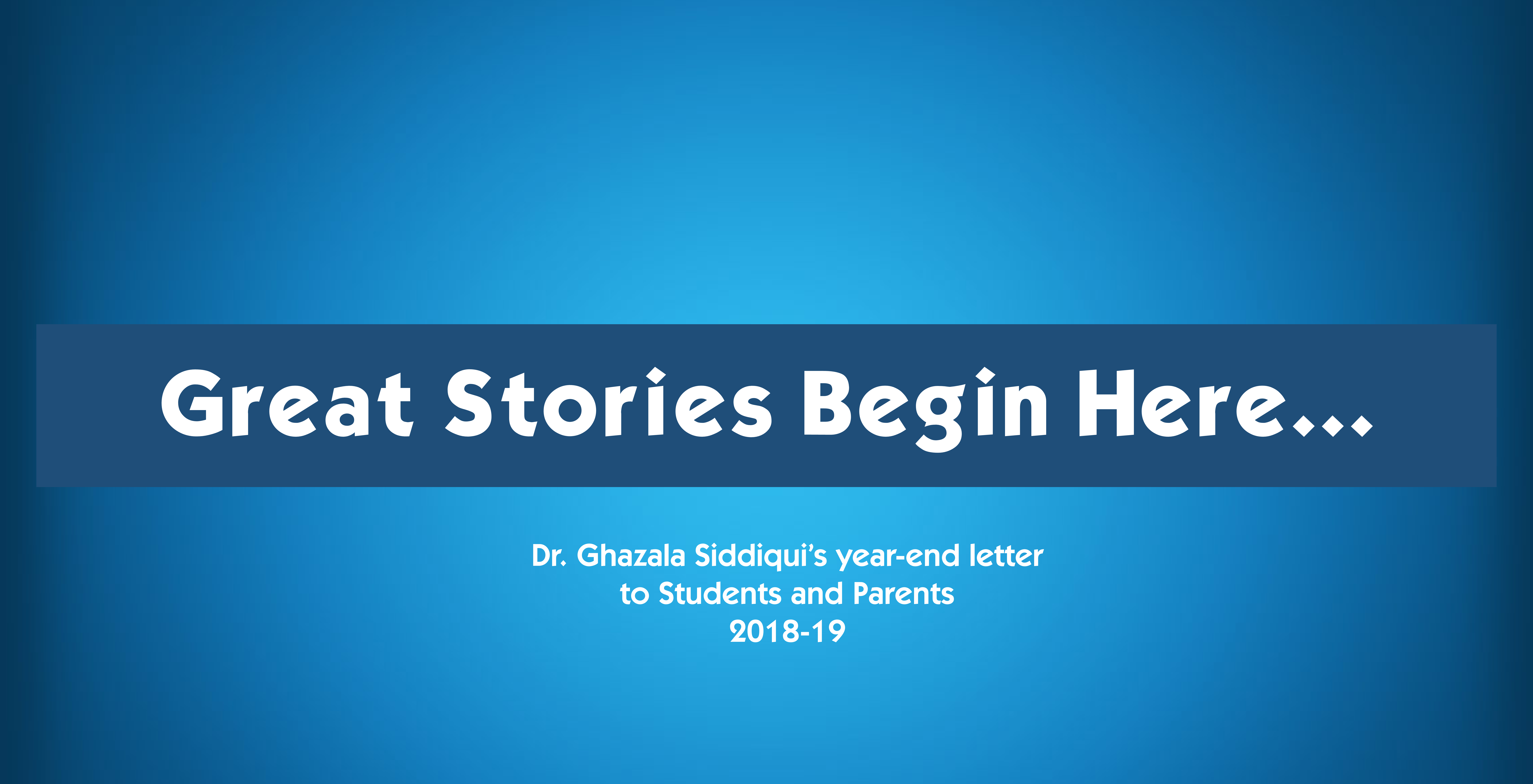 Dear Parents,
Assalamu alaikum,
Great Stories Begin Here!
Generation's Story 2018 – 19
Ramadan Mubarak – may Allah accept our ibadaat and du'aas, and may He be pleased with us!
I write to you with great pleasure and pride as we approach the end of yet another academic session full of exciting learning and attainment, Alhamdulillah. It has been a significantly interactive year especially with the parents and the community, with much to celebrate and many happy memories. Aren't we proud of all the achievements and accomplishments of our staff and students, here at Generation's School!
Creating and sustaining a culture of excellence – I am happy to share that there has been an upward trend in the attainment of the Generation's goals set for the session 2018-19.
Academic Excellence – Generians have done us proud at the CAIE Examinations. The Outstanding Cambridge Learner Awards 2018 celebrates the success of learners taking Cambridge Examinations in over 40 countries around the world. The Generians out-performed thousands of candidates worldwide, in the following disciplines and categories
| | | | |
| --- | --- | --- | --- |
| First Place in Pakistan | O Level | Best Across 8 Cambridge O Level | Muhammad Usman Tariq |
| Top in World | O Level | Mathematics Syllabus D | Muhammad Usman Tariq |
| Top in Sindh | O Level | History (Modern World Affairs) | Muhammad Usman Tariq |
| Top in Sindh | O Level | Principles of Accounting | Muhammad Usman Tariq |
| First Place in Pakistan | A Level | Best Across 3 Cambridge International A Level | Sania Irfan |
| Top in Pakistan | A Level | Literature in English | Sania Irfan |
University Admissions for A Level students – The Career Counselling team set higher targets this year. Alhamdulillah, many reputable foreign and local universities have offered admissions to Generians, opening new horizons for learning. About 42% of our graduating A Level students have received admission offers from prestigious international universities in the UK, USA, Australia, Turkey and UAE, including The Imperial College London, University College London and the University of Colorado, USA. Offers from top universities in Pakistan also continue. Worth mentioning this year are the five Generians winning admission to the Aga Khan University for MBBS. Mubarak to the entire Gen Community!
Emphasis on study skills and review cycles has helped students learn and retain more. Assessments for learning, and reporting for learning are being increasingly practiced by the teachers, and I expect many of you to have experienced a more helpful reporting by them during the Parent Teacher Meetings.
Much happened beyond the classroom – Team Revolution X (girls) from Generation's School (GS) qualified for the international event at the First Lego League National Robotics Championship held in Islamabad, and will have the honour to represent Pakistan at the global stage in Izmir, Turkey, this summer.
Two Generians from Grade IX qualified for the finals of Intel Science and Engineering Fair, organized by Shaukat Khanum Hospital. They are currently representing Pakistan, in Arizona, USA.
Two teams from the Middle Section, Team Gen Blasters and Team Audace Vale Unan 7, participated in Destination Imagination, an International STEM-based competition. They competed with more than 1400 teams from the USA and 14 other countries and qualified for finals in the USA and Poland respectively. We wish them all the best!
Generation's first-ever football team lifted the Runner-up trophy in their debut tournament, the Karachi United Girls Football Championship 2019. What an achievement!
The Project RABT, involving Education Technology and Design Thinking, is based on a multidisciplinary approach towards learning. Though demanding, this project has been highly productive. With a focus on Town Planning, the project was piloted in Grade VI last year and was extended to Grades III and VII this year. To have experienced the phenomenal learning by students that took place in terms of problem-solving skills, innovation, and excitement, all based on values, is very promising indeed. This could not have been achieved without the endless energy, skills and devotion of the relevant staff, spearheaded by the Education Technology Team. Well done!
Generation's Reading Programme – Readers are Leaders! It has been a pressing goal to further enhance reading skills all across the School. For this, all libraries introduced a more structured Reading Programme this year and kept a track of the number of books being read by each child, grade level and the entire section together. The numbers have been encouraging, and I would urge you to create and sustain a rich reading culture at home too so as to support the children further. Over the year, 11,000+ books were read by the Starters, 52,000+ by the Juniors, 1,800+ by the Middle Section, and 1,200+ by the Senior Section! About 66,000 books – a decent start. Push through to higher targets coming year, Generians!
Alhamdulillah, parental attendance in the Parent Teacher Meetings at the Starter and the Junior Sections has come up to an appreciable level. 42 classes in the Starters and 32 in the Juniors were awarded 100% PTM attendance certificates. Congratulations to the relevant parents! Do look out for your certificate, posted in the corridor outside your child's class. None of the classes from the Middle & Senior Sections could qualify, much to our concern. Dear Parents, I hope to see these certificates awarded in your Sections too, in the coming year. Your child needs your interaction with the teacher more than ever to accomplish higher standards!
After a long struggle, eventually Generation's Alumni Association has been formally launched, and the first get-together took place in November 2018 – a milestone for the institution Alhamdulillah. More than 400 alumni attended. We see the Gen Alumni start playing a much more significant role in supporting the School's vision. It was elating to meet all those alumni, and learn of them doing so well in their respective fields! Their urge to serve Generation's and the community at large, with a high sense of pride and commitment is appreciable. Congratulations and well done to all parties who played their part in bringing it all together.
Gen Communication and Engagement
This year, we at Generation's, made an extraordinary effort to improve our communication and engagement with you all as parents and your feedback in this regard has been very encouraging. The Annual Survey was sent to only a couple of sections from each grade level to make the process smarter. I assure you that your feedback is compiled, analyzed and the conclusions incorporated for school improvement, wherever needed.
It was a delight to meet and see so many of you along with your immediate and extended families at the Generation's Open Houses, both in the North and the South campuses. These turned out to be highly engaging events overall and thousands of visitors took it as an excellent learning opportunity.
I expect you to have been following our students' remarkable achievements, academic and cross curricular, through our regular issues of 'Gen Flash', the Generation's Newsletter. Congratulations & well done Generians! Please do visit the website for details.
Website renewed – Our website www.generations.edu.pk has been given a new look and your feedback is welcome. Gen Team worked on making it more impactful, friendlier and easier to use. Hope you find it so! Please visit today.
National and International Collaborations
University of Cambridge, UK – As you all would know, Generation's School is now a Cambridge Professional Development Centre, with in-house certified Programme Leaders conducting rigorous Cambridge Professional Development Qualification Certificate Courses for the staff. This has been an enriching opportunity, enhancing the quality of teaching and learning right down to the classroom level.
The Aga Khan University – The Early Childhood Education (ECE) Programme is in the pipeline, for the teachers of the Starter Section.
FranklinCovey Education, USA, the world's most prominent and trusted providers of educational leadership programmes and transformational processes. I am pleased to share with you that after extensive deliberation and research, Generation's School has decided to embark upon their world renowned 'Leader in Me' Programme. This will, insha'allah, be highly engaging for the parents as well, and focuses on Leadership development of each Generian, based on the famous Seven Habits. Details will be shared in due course; please stay tuned.
SUPARCO exhibited its space robots in the Exhibition of Innovation at the GET Fair 2019, held at Generation's. SUPARCO officials also supported our students in their research for First Lego League national and international championships, wherein students identified the problems around the theme of Space and suggested innovative solutions to overcome the same.
My worries – let's deliberate and work our way out together!
Respect for teachers: Don't you think our children are losing respect for knowledge and teachers too fast and we need to do something about it? Where will the depreciation of such a sacred value lead us to as individuals, as families and as a nation?
Screen time: Don't you think the evil of inappropriate and overuse of screen is causing serious damage to our children's personality and learning ability? Increasing number of students are suffering because of this and need to be managed by the parents urgently to prevent lifelong ill consequences.
Junk food: Don't you think obesity, lethargy and disobedience are a direct effect of high consumption of junk food?
What are we doing, and where are we going?
آزادی افکار سے ہے انکی تباہی رکھتے نہیں جو فکروتدبُر کا سلیقہ اقبال
Way Forward…
Do remember to make du'a for all O and A Level students taking their Cambridge exams, and that too in Ramadan. May Allah grant them great success here and hereafter.
Generation's School is hosting an activity-based summer camp in July insha'allah, registration for which is underway. I would strongly recommend the children to attend, as this makes for meaningful use of their time. For details, do visit the School website, or get in touch with the Front Office.
Please note that it's very important for each student to attend school on the very first day, insha'allah. Keep yourself aware of the August opening dates, and plan your holidays accordingly. The first day missed rocks the entire year's learning! Also ensure arrangements for the required uniform, stationery etc. well before the School reopens – avoid last-minute debacles!
Faculty, staff and students, work hard during the school year and, therefore, I see the summer months as a time for rejuvenation and goal setting. We all need time to organize ourselves and enjoy time with family and friends. I hope that learning will continue throughout the holiday. Homework has been set for all students to complete for the start of August. This will help your child to review taught concepts and get off to the best possible start in August.
My heartfelt gratitude to the Gen staff for their hard work, compassion and innovation. Thank you and well done to an incredible team of professionals! Thank you, parents, for your support and acknowledgement all along.
Dear students, I wish you all the very best for the summer vacation and look forward to welcoming you all back, refreshed, for what will be an exciting, new academic year, insha'allah.
Best wishes and du'as to the A Level graduating class; stay connected, serve Pakistan and contribute to your alma mater. Once A Generian. Always A Generian!
I pray Great Stories continue to begin here to last forever.
Heartiest Eid Mubarak to all! May Allah bless us all! May Allah bless Pakistan!
Dr. Ghazala Siddiqui
Founding Principal & CEO
May 15, 2019/Ramadan 09, 1440