And Leading the Race is… Covid-19 or 2021? by Maria Bukhari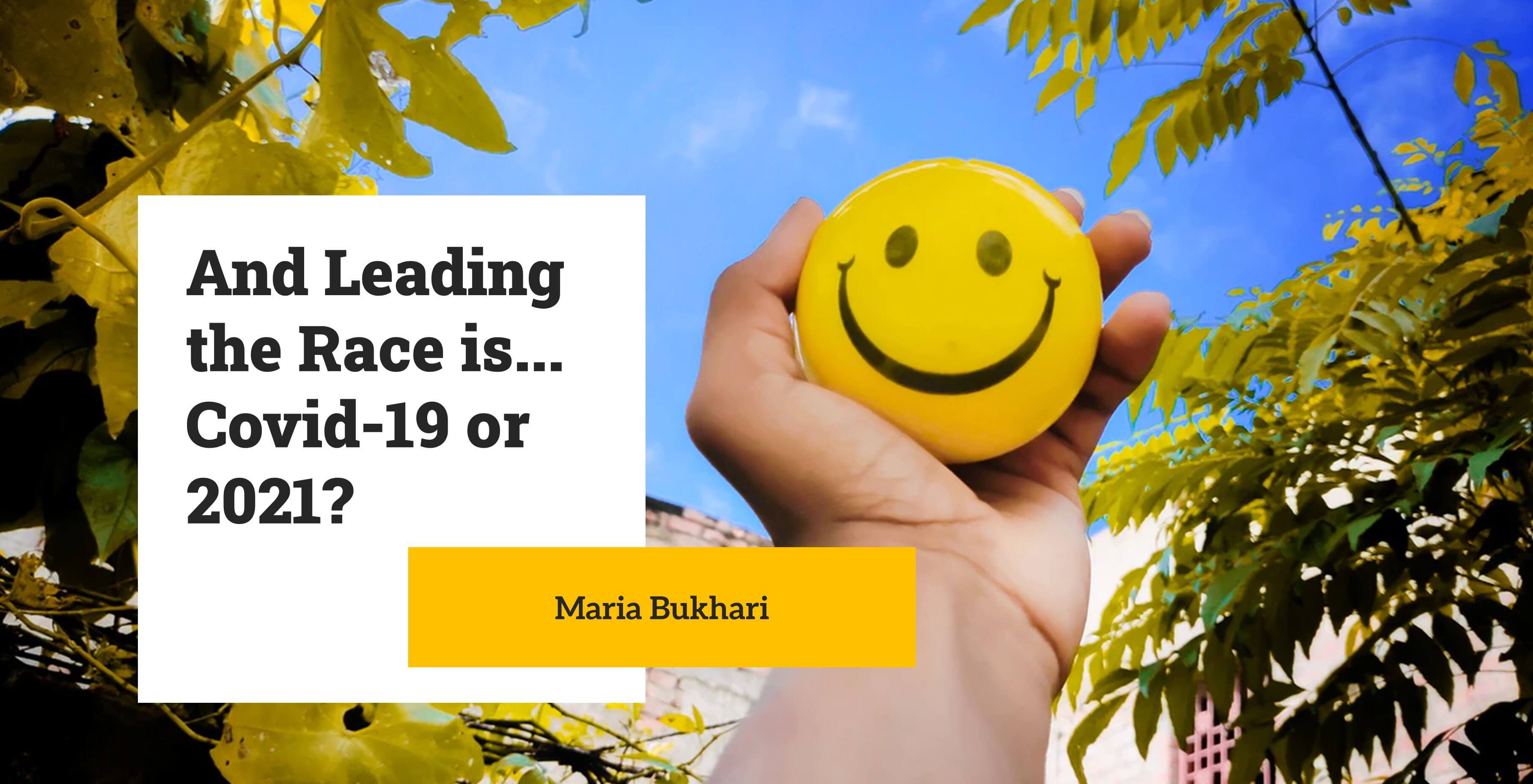 It's here, it's here, it's almost finally here, ladies and gentleman, put your hands up for the most-awaited 2021. Will it be our angel in disguise, or will it bring more trouble over our heads is yet to be seen, stay tuned to find out.
It's hilarious, really, how the world has changed in a span of a year that went faster than The Flash. Does anyone remember how when the year started and the cases were rising steeply the news channels would be displaying their regular count of cases and deaths in different regions? And the only news playing would be corona, corona CORONA; a new wave of the corona, new discoveries on corona, corona vaccine trials, the second wave of corona lockdown, LOCKDOWN EXTREME, curfew at 8, conferences on corona situation in the country, it was always corona, even if there was nothing else, there would be corona. It stuck to us like a leech, we talked about the corona, we tried to protect ourselves from corona, we scared others with corona, this virus that killed became more like an additional breath for us – and such a weird breath that suffocated us from all angles.
And look where we, are, so tired of the corona that we, at least I, last looked up the number of corona cases in Pakistan, what 3 months ago? I'm sorry, it's just too much, even the news channels stopped displaying it on screen. But Monsieur Covid-19 has to be in the spotlight of course, because just when finally all this unnecessary hype died down, our star decides to bring out its new variant, and now everyone is talking about that. Talk about history repeating itself, now we are fighting on Whatsapp groups (AGAIN) offer whether the schools will open or not, and should they open or not.
And the Zoom meetings! We started off with no clue about literally anything, and in a matter of months look where we stand. Zoom feels like home, familiar and homely. Although a slight disadvantage of our know-it-all behaviour, we may or may not have taken advantage to have some fun in class, you know the pranks you hear about in books only, but never really got a chance to have a good laugh over in real life, yeah those tricks.
And here at home, a completely different scenario, the maids were given leave for the time being and we had to shoulder the responsibility. Regular vacuuming and dusting. The first time I switched on the vacuum (feeling very important), the thundering roar it made chilled me to the bone and I dropped the pipe and ran for my life. Attempt number two, not much better, but I held on to it longer – if that counts. Dusting was, I mean it should be, easy, right? Wrong! It looked like I was just moving the dust around in circles. And then when I shook the duster, the dust just flew off to find somewhere else to settle. The frustration I felt. But anyways, after an intensive self-taught course in cleaning, I can proudly say that I am acquainted with the different cleaning utensils people generally use and if there is an emergency, I am sufficiently able to handle them enough not to embarrass myself.
2021 will be here in literally a few hours, and seeing as 2020 taught us how to cope with the situation, I now have big plans for the next year. Most probably moving online and going with the new flow. Wishing everyone a happy new year and see you online!
—
Maria Bukhari – X-G (Generosity) has a flair for writing with a winning streak in writing competitions. Her 'And Leading the Race is… Covid-19 or 2021?' is a witty rendition of sanity prevailing over uncertainties – the human capability of finding humour, hope and lessons to move forward in life.
—
Cover Photo by Shaurya Sagar on Unsplash