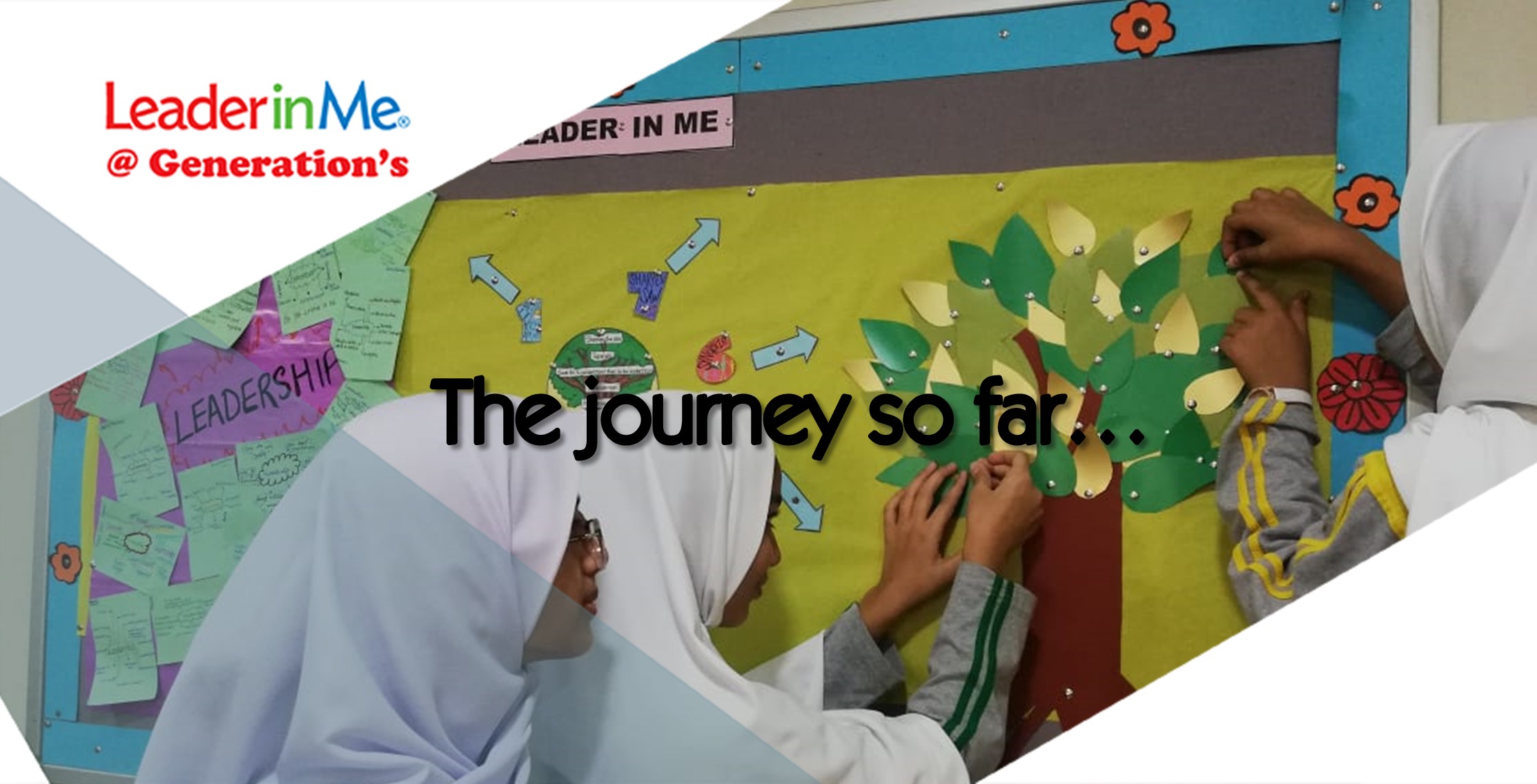 Leader in Me Programme in collaboration with
FranklinCovey Education
For nearly three decades, FranklinCovey Education, based in the United States, has been one of the world's most prominent and trusted providers of educational leadership programmes and transformational processes. Their mission is to enable greatness in students, teachers, and schools all around the world.
Leader in Me is a whole-school transformation process, based on the famous 7 Habits of Highly Effective People by Stephen Covey. It empowers students with leadership and life skills to thrive in the 21st century. The process starts with a powerful paradigm: every child has unique strengths and talents that they can use to lead. This paradigm allows the staff and parents to encourage the development of the whole child.
Leader in Me @ Generation's has taken a good start. Motivated teachers and students can be seen around – brainstorming on leadership, learning the 7 Habits along with hand signs, making the 7 Habits trees, using the particular language and vocabulary, busy in activities like making 'Synergy' class puzzles, developing vibrant leadership displays, and so much more!
First for Staff…
As Generation's Staff, more than 600 of us went through a wonderful three-day training by FranklinCovey Education before the students joined in August.
… then for Students
Upon commencement of the session, students have been getting exposure to the 7 Habits and Leader in Me through Leadership Guides and Student Journals in the weekly Leadership Lessons, assemblies, vibrant Leadership Displays made by staff & students, and many such activities at each grade level.
Now for Parents!
We are now able to extend Leader in Me @ Generation's to you and other parents – to maximize the positive impact of this programme on each child, as well as to spread this positive impact over the larger community. Your active role in this programme is integral to its success.
You must have received the Leader in Me flyer for Parent Session, sent home with your child earlier this week.
Action Step
Sessions for Parents will begin from Monday, September 02. For details of the venue, date and time for your session with FranklinCovey Education, please refer to the message you received from the School in this regard. In case you haven't receive the SMS, please WhatsApp on 0300 0220 640.
Expecting to see you on the designated date and time, fully engaged for the sake of our children, all for the love of learning. Let's be the role models they need!
Rabia Siddiqui
Coordinator, Leader in Me