Introducing Shaheens Quarterly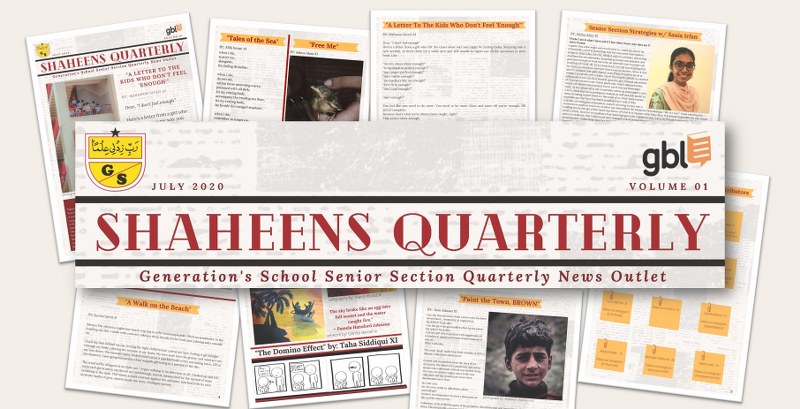 We are pleased to announce the launch of Shaheens Quarterly – a Newsletter by the Generian Book League, Senior Section
Inside this issue:
Tales Of the Sea by Afifa Imran
Free Me by Ashna Alam
A Letter to the Kids who don't feel 'enough' خواہشات اور انسان by Affan Tahir
A Walk on the Beach by Ayesha Saeed
Strokes & Snaps Gallery
The Domino Effect by Taha Siddiqui
Paint the Town, BROWN by Sara Salman
Senior Section Strategies w/ Sania Irfan
Letter from the Editor & Mentor
Recognizing The Contributors
Editor's Message
Hello Readers! I hope you enjoyed reading this issue as much as I enjoyed making it. It feels very surreal to have this out and published,
for this has been a platform I wanted to introduce for a very long time. I hope this newsletter acts as a place where everyone can often
get recognized and I can't wait for the future of this newsletter since there is so much exciting stuff planned.
I want to extend my gratitude to Miss Umaima Javed for trusting my idea enough to propose it to the Vice Principal. I would like to
sincerely appreciate everyone who contributed, and even if your work didn't make it, keep your eyes peeled for the next one because I
want to clarify that each contribution to this project means the world to me. And finally, thank-you for taking out time to read it, I will
look forward to your feedback!
Regards,
Misha Asim
Message from the Mentor
It gives me immense pleasure to be the Mentor of a project conceptualised by Misha Asim from the platform of GBL Society, Senior
Section. The first-ever 'Shaheens Quarterly' is a quarterly E-Newsletter combining passion and hope, with the ultimate goal of empowering
students, enhancing productivity, providing a platform to young, energetic emerging talent. I would like to acknowledge the efforts of
Misha Asim for being the one-man army for this volume, Ms Uzma Shakeel, Vice Principal Middle and Senior, Ms Farnaz Akhtar
Headmistress Senior Section and Ms Taskeen Khan for showing faith in the project. Abdullah Bin Hameedullah for always being there to
extend his support. Ms Farah Bukhari and Ms Maliha Rafi for their precious feedback.
Regards,
Ms Umaima Javed
Shaheen's Quarterly – Generian Book League – E-Newsletter July 2020