A Level Virtual Open House – Sat 27 Jun on Zoom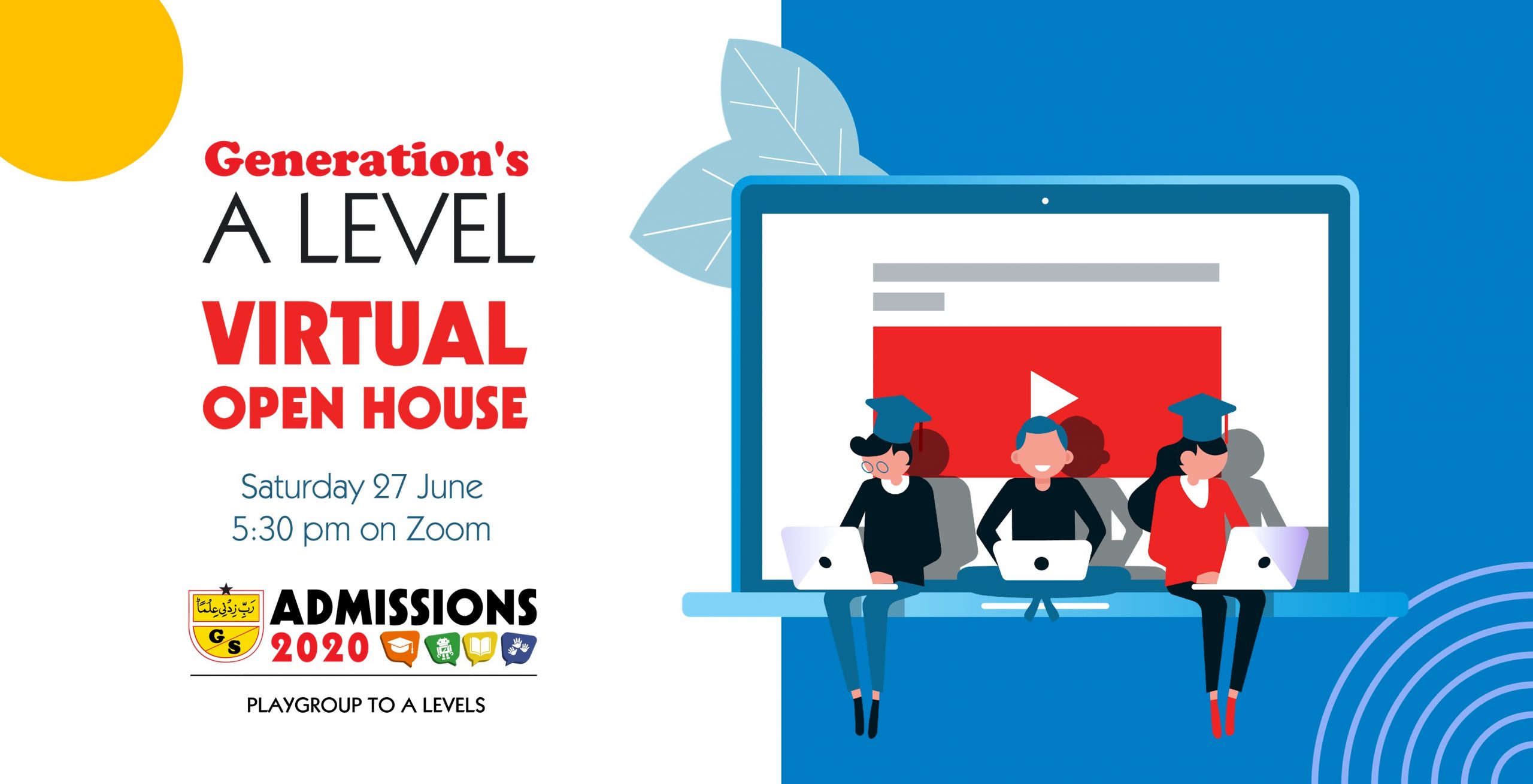 The A Level Programme at Generation's is not only able to take advantage of the world-class learning environment but also offers students unparalleled opportunities for learning, leadership and growth in a multitude of forms.
In addition to the strong faculty, students benefit from a diverse and rich offering of subjects and disciplines, with hundreds of possible combinations, including subjects like Further Mathematics, English Literature, Psychology and World History.
"Life at Generation's is purposeful and engaging for learners… following a progressive pattern catering to the needs and well-being of all students."

Ms. Uzma Shakeel, Vice Principal Middle & Senior Sections
Admission Counselling
At the time of submission of the application form, the applicant is invited for a counselling session with the A Level team along with a tour of the Campus. The counselling session will help the applicant choose the right subject combinations and learn about the campus and facilities at Generation's A Level Programme.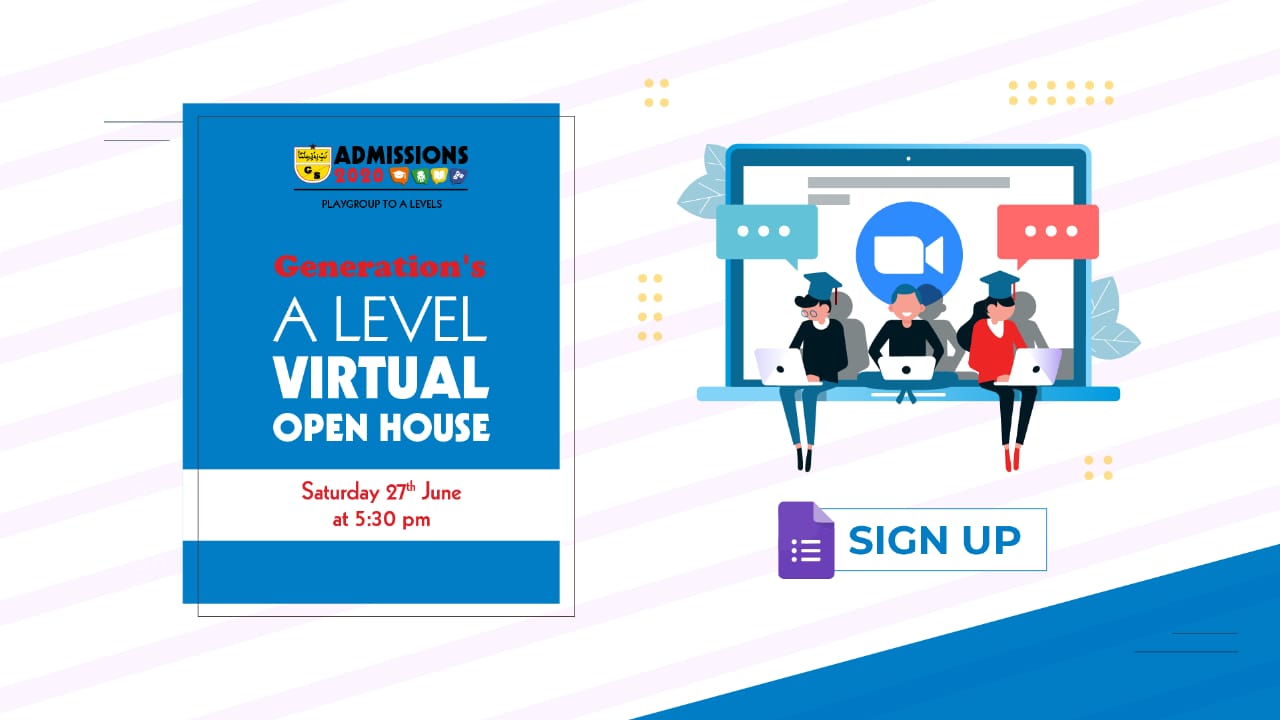 Special Scholarship
Applicants are encouraged to submit their completed application as early as possible in order to ensure a favourable selection of subjects as well as the highest possible tiers of scholarship awards.
All scholarships are reviewed at the end of the first year on the basis of academic and social performance.
Non-academic scholarships are available on an exceptional basis, based on sports and other cross-curricular and social achievements.
Subject Options
Students ready for a broad array of challenges, interests and experiences may select an appropriate subject combination from the table below, opting for 4 or 5 subjects.
| | | | | |
| --- | --- | --- | --- | --- |
| A | B | C | D | E |
| A1 – Business | B1 – Literature in English | C1 – Accounting | D1 – Chemistry | E1 – Mathematics |
| A2 – Chemistry | B2 – Physics | C2 – Biology | D2 – Economics | E2 – Further Mathematics |
| A3 – Physics | B3 – Mathematics | C3 – Mathematics | D3 – Physics | E3 – English General Paper |
| A4 – Global Perspectives & Research | B4 – Psychology | | | |
Form Requirements
Applicants should submit
the duly filled application form
copy of NADRA Form B (or equivalent) and 2 recent passport size photos
attested copy of mock exam results
principals' recommendation form in a school-sealed envelope
And the following to be submitted in August, within 02 days of the O Level results
attested copies of CAIE O Level results and certificates
attested copies of full and final school results
clearance certificate from the previous school
attested copy of mock exam results (IX, X & XI)
Form issuance and submission
Click here to request an Application Pack online. The pack will be sent to you within 02 working days, insha'allah.
"… myriads of opportunities for our students to get involved and participate in diverse cross-curricular events & community service that supports smart decision-making – enabling success."

Ms. Farnaz Akhtar, Headmistress Senior Section
Strong University Counselling
The strong college counselling programme helps students – as well as parents – in understanding the various local and international options available for higher education. It guides through the process of applying for admission and financial assistance to many of the top local and international institutions such as LUMS, Aga Khan University, IBA, theNational University of Singapore, Yale, McGill and the London School of Economics.
Student Life at Generation's
The student-led societies play a critical role, providing students with the opportunity to broaden their interest, and also practically plan, lead and manage entire teams to achieve their goals in true entrepreneurial spirit: events, exhibitions, competition and community service for their fellow Generians – and beyond.
What to Expect at the A Level Virtual Open House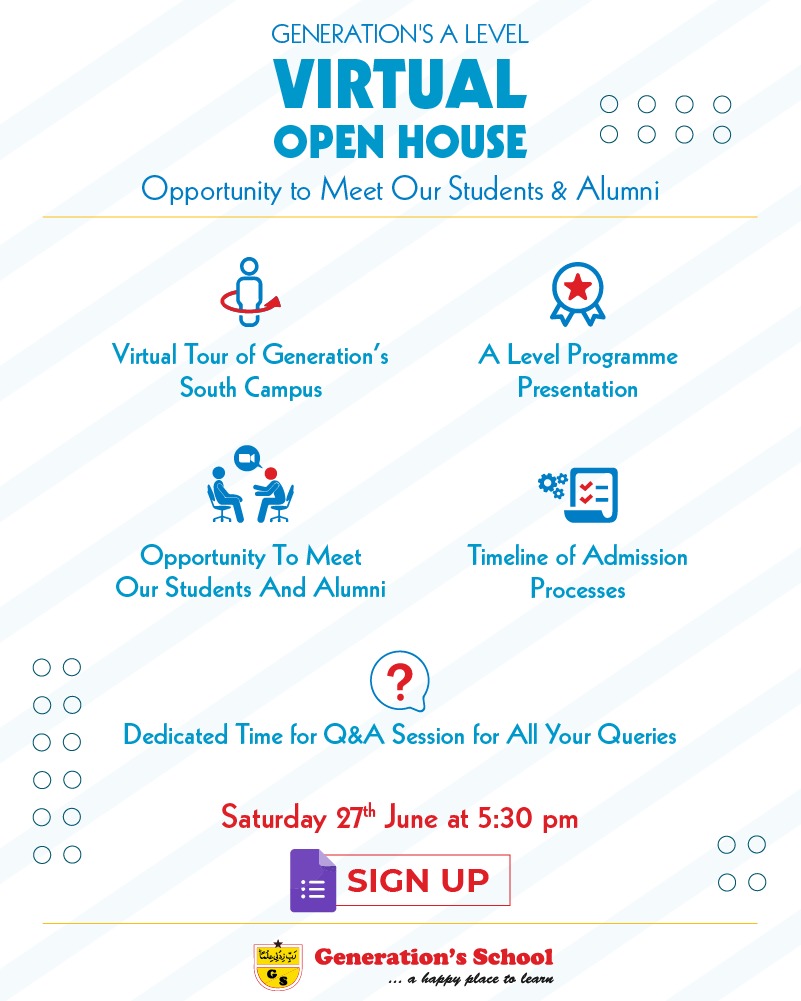 Looking forward to meeting you!