My Student, Kanza by Ms. Sadaf Syed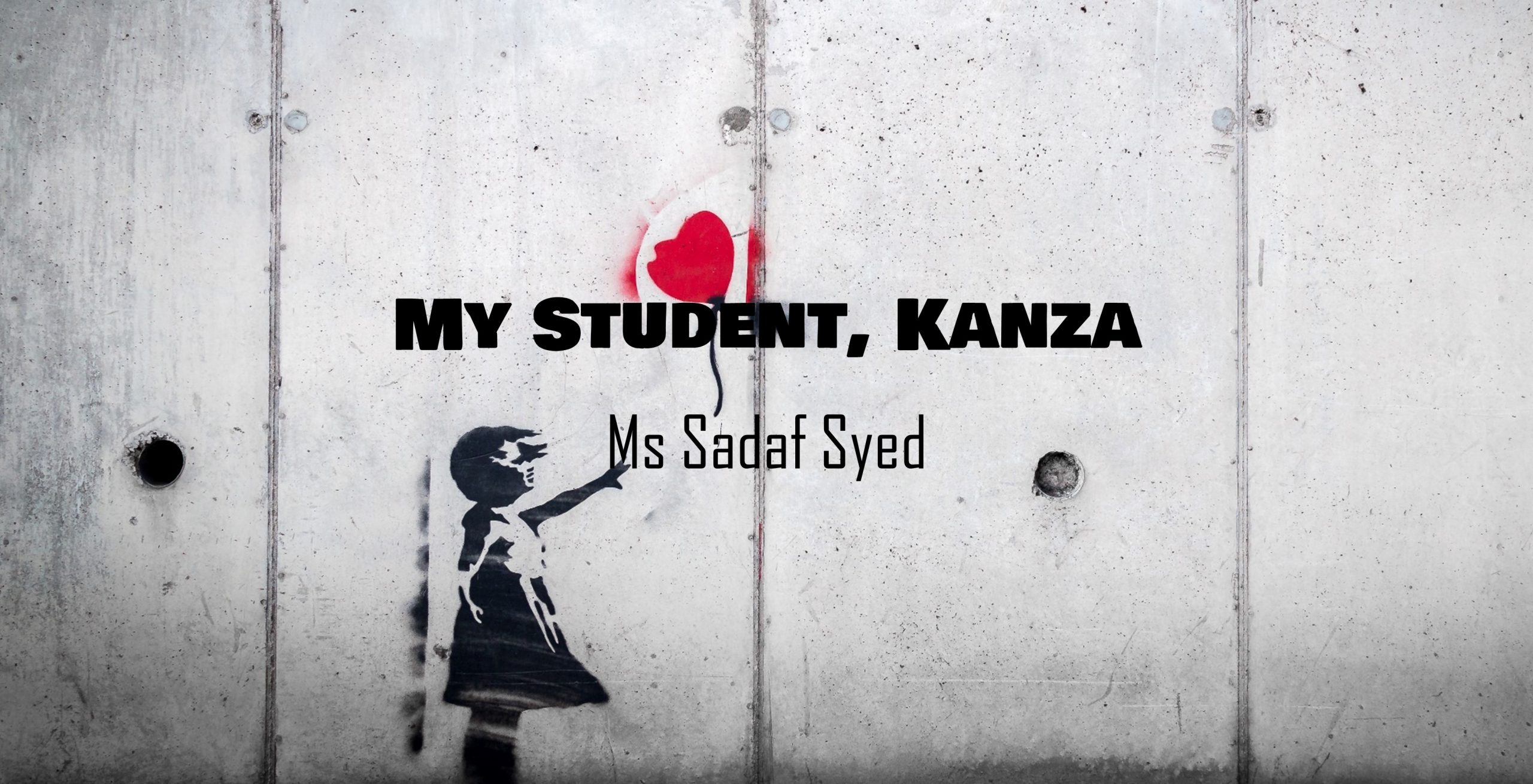 My Student, Kanza
Your Miss. Sadaf
You're gone, Kanza and I never got to say goodbye
My heart is filled with sadness, you made this teacher cry
All I see before my eyes, is your smiling, laughing face
You always listened attentively; love and respect in your gaze
Any task I gave, you did it well; you were a teacher's helper
Your friends looked up to you, because you explained it better
As a sister you were loving and strict, your brothers can avouch
They had to work as hard as you; you feared the teacher's reproach
Social studies bored you; Math and English you enjoyed
Your stories were long and creative, but at grammar you excelled
You were talented, but afraid to explore your dreams
The other girls would mock you; to you that's what it seemed
But Kanza, you sang my song so well, even if it was out of tune
I loved you more for trying; I reveled in your husky croon
The short time you had in this world was a gift
For those who knew you, you will be dearly missed
I don't know who taught who more, was it me or you?
As I pray, I reflect on how you touched my life anew
What you leave behind are not memories, but true lessons
Of honesty, sincere effort, generosity and commitment
You're gone now, Kanza; I wish I'd embraced you the last time you passed me by
My heart is filled with pride for having known you; but the tears I cannot deny
January 30, 2015
—
Though an economist by profession, Ms. Sadaf Syed has been an educator since July 2008. She began teaching English and Social Studies to primary classes and later on, ventured into school administration as a Year Tutor in the Junior Section. She has been engaged with young children (from ages 8 to 12) for the past 12 years now and finds her strength in motivating and encouraging her students to be the best version of themselves. In her spare time, she enjoys reading articles and books and sometimes writes poetry and songs for children to express her thoughts.
In January 2015, Ms. Sadaf lost one of her students to a tragic and fatal incident of severe food poisoning and it left an indelible mark on her. In such a moment of loss and emotional distress, she penned a tribute to her student in order to capture her memory and honour her student.
—