Dr. Ghazala's Midterm Letter 2019-20
Posted by

Categories

Naya Taaza

Date

October 1, 2019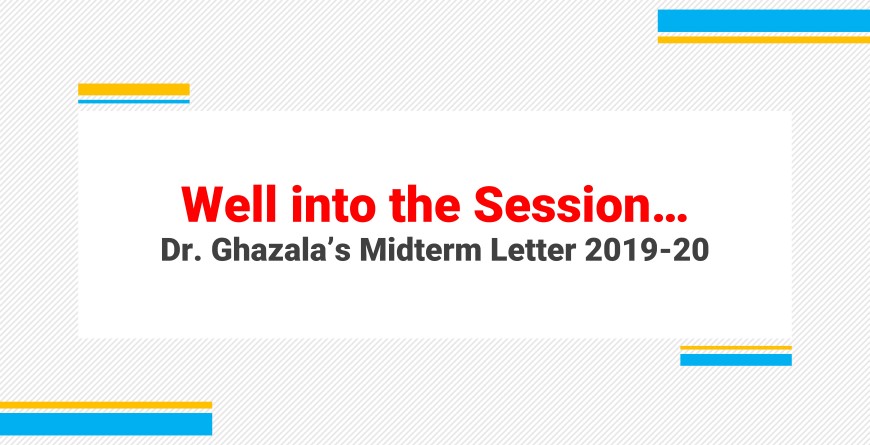 Well into the Session 2019-20
Dear Parents,
Assalamu alaikum,
I am writing to you in continuation of my Term End letter titled 'Great Stories Begin Here' dated May 15, 2019. I pray all children have settled into the new session and are learning well.
A Few Updates
The Orientation Meetings for parents are all over now. We have a serious concern about the parents who did not attend the very first meeting of their child/ren. Jazakallah and well done to the ones who did…you are on track!Next is the upcoming Midterm 1 Parent Teacher Meeting (PTM).
I hope you enjoyed our first issue of Gen Flash for the session.
The highlight of the new session till now has been our high powered embarkment on the world-renowned 'The Leader in Me' programme and the related sessions for the parents – a step towards synergy!
The sessions were conducted by the Franklin Covey US Team in Pakistan. It was a marathon series, attended by a huge number of parents from all across the School. We had excellent feedback from the parents. I am really concerned about the ones who didn't or couldn't attend, as it is a matter of cultural transformation, and each family matters. Nevertheless, we plan to keep you abreast with the latest developments through:
your own child's active learning in the School
your child's 'Leader in Me' textbooks
Generation's website www.generations.edu.pk
Leader in Me update letters from the School
face-to-face follow up sessions for parents
Remember, during these energetic sessions we all committed to working hard for Generation's to be one of the first Lighthouse Schools in South Asia, insha'allah. I encourage you to go through the books titled 'The 7 Habits of Highly Effective Teens / Families' available in the market.
Action Points
1. I hope you are already working on "My worries" that I shared in the Term End letter in May:
declining respect for teachers and school
overuse of screen and
ever-increasing consumption of junk food
Let's work on these problems full and fast to save our children from the imminent disaster.
2. The first-day attendance of students needs attention. Please be proactive and plan your holidays according to the school opening dates.
3. Looking forward to each one of you attending the forthcoming Midterm PTM, insha'allah, in the third week of October; one to one meeting with the teachers regarding your child's progress.
Please do visit the website www.generations.edu.pk regularly for all kinds of updates regarding the School happenings and your child's learning.
Pray we have a pleasant and fulfilling year ahead full of learning and development for our children.
اپنی دُنیا آپ پیدا کر اگر زندوں میں ہے
                                                                                                                                             اقبال
Jazakallah al khayr,
Dr. Ghazala Siddiqui
Founding Principal